New tutorial out this evening, hope you like!
Now on to the new tutorial :)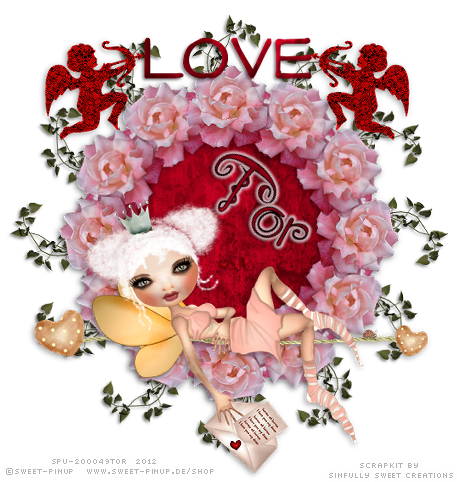 Click IMAGE above to go to the tut.
Materials Used:
PSP - I use version 9.01 but this should be able to be done in any version with little difficulty.
Tube of choice: I used a tube from Sweet-Pinup, I used SPU coralee' 03 version B, you need a license to use this tube. Tube is a PTU tube and can be purchased
HERE
.
.
Font(s) of choice: I used Imperfect Font, a FTU font found
HERE
&
for personalization of names I used Joli Script, which is a FTU font and can be found
HERE
Plugins Needed:
Eyecandy 5: Impact-Gradient Glow
Mura's Meister Copies
Scrapkit Materials Used:
SSC_LIA_Element7
SSC_LIA_Element24
SSC_LIA_Element27
Paper9
Let's Tag!!
Open a new image 700x700 px / 72 resolution.
Make 3 new raster layers named canvas 1 light & canvas 2 dark & canvas 3 white. Flood fill each of these layers with a corresponding color. This will be used to make sure our copyright info can be seen later on when our tag is complete.
ssc_lia_element 7 resize by 75% x6 times.
Mura's Meister - Copies--preset menu set to encircle, set with these settings:
#:12, Shift X / Shift Y: 50, angle: 0, roation: 100, Phase: -25, Cycle: 100, Attenuation: 0, Scale: 100, Tile Gap, Thru BG Range & Fade Out: 0, Thru BG smooth: 30. Click ok rename rose wreath.
ssc_lia_element 22: resize by 75% x2 times, paste as new layer, mura's meister copies, same setting. Resize by 75%. Move under rose wreath layer, rename vines.
Highlight rose wreath layer, with magic wand, click inside the center of wreath. Selections - Modify - expand 10 px. Click OK. New raster layer, name it paper bg. Drag this layer in your layer palette UNDER your rose wreath layer. Choose paper, I used paper 9. Copy / paste into selection. Select none.
Open tube of choice. I used SPU coralee' 03 version B. resized by 75% x2 times, arranged on the wreath. Rename layer as tube. Give tube a D/S: 2,-2,40,10,blk.
Open ssc_lia_element 27. Copy / Paste as a new layer. Resize by 75% x2 times. Layers duplicate. Image mirror. Layers merge down. Dropshadow as before. Rename layer as cupid.
With font of choice (I used Imperfect font) at a size 36. No stroke, set with the following: Foreground: Gradient: Metal Steel. Background: Pattern: Paper 9, default settings, type out the word 'love'. While your font is still "floating" you can move it into place by dragging it to where you want it. Here I placed mine between the cupids. (So make sure your font size is small enough, if not you will need to retype with a smaller size). While text is still floating, give it an Inner Bevel with these settings:
Bevel: 2, W: 25,
S:50, D: 10, A: 8, S: 0,
Color: white, A: 327, I: 40, E: 37.
Click OK.
Dropshadow with these settings:
2,-2,50, 5, black, click ok. Selections, select none.
Crop your tag, resize your tag making sure ALL layers is checkmarked. I resized mine 85%. Add copyright info / your tagger info. For copyright info / tagger info . Opacity set to 30%. (Check these against all three of your canvas colored backgrounds (white, light & dark). If all shows up on all three canvas backgrounds, delete your canvas background layers, merge, merge visible, save as a .png file.
Personalize with names using Joli Script size 55 stroke: 1 using Paper 9. Then use Eyecandy 5 Impact-Gradient glow, followed by a dropshadow with these settings: V: 2, H: -2, O: 50, B: 1, Color: Black. Image Free Rotate: Right & 30 degrees, click ok and move into place on your tag.
You are done! YAY! Thanks for trying out my tut today, hope you enjoyed it!
LOVE LETTER
in the subject line so I won't miss your email.
*hugz*
TOR